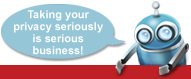 Privacy Policy
Your privacy is important to us.
In your use of our games, services and websites ("Services"), we may collect certain data as outlined below. If you do not agree to our policies or license agreements, you may cease using our Services.
We use eSellerate's payment system when you buy PC or Mac games from our website. Our games are also sold on Apple's iTunes store, the Google Play Store and the Amazon App Store. See the the links below for their detailed privacy policies:
We and our partners may use analytic services and other tools which gather your IP address or other identifiers and usage data relating to our Services. We may create statistics and analyze this data in order to provide better Services to our customers. We treat this information as non-personal data.
We and our partners may utilize ad serving technology to provide ads of interest to you in our Services. To facilitate this ad serving, we and our partners may collect and use information about you, such as your Service session activity, device identifier, coarse geo-location information and IP address. Please note that our partners operate under their own privacy policies.
In the process of using our Services, (such as purchasing a game, subscribing to a newsletter or filling out a support request form), you may also supply personally identifiable information. This kind of information that you may provide to us is only used for the purposes of using our Services, such as completing an order, delivering a newsletter or replying to emails or support requests.
As on many web sites, the site editor may also automatically receive general information that is contained in server log files, such as your IP address, and cookie information.
We never use or share personally identifiable information that you may provide to us in any way except in the ways listed above.
Changes may be made to our privacy policy from time to time, and these changes will be posted to our site. Your continued use of our Services after we post a new version of our privacy policy is deemed as your acceptance of the modified terms.
Questions about this policy can be directed to
customer support
.