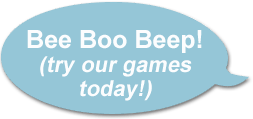 Burger Shop 3
Many of you have been asking, "Burger Shop 3! Where is it?!", and then you follow that up by yelling, "What is happening with Burger Shop 3, GoBit Games?!?!" Well, like many things in life, it is a complicated and torrid tale, and so, you gotta ask yourself, "Well, do I feel lucky? Huh? Do I? Should I go for the 'Long Story' or the 'Short Story'?"
The Long Story

Howzie! (that is how they say 'Hello' in the future)

This is a loooong story, so buckle up, grab a burger and fries, and dive in for a tale that BurgerBot calls a thrill-ride of truth-defying excitement!

Travel back with us to 2013. Picture the GoBit Staff wrapping up Burger Shop 3 and doing some final polishing. Everything is coming up roses. When BAM!!!

All of a sudden the entire GoBit Games staff and offices are transported twenty-nine years in the Future! TWENTY. NINE. YEARS. Just imagine, if you will, that you are living in 2013, just cruising along enjoying avacado toast, kale chips, pumpkin spice lattes, and poke bowls, while listening to Crazy Town and Wheatus on your iPod; and then, WHAM!, you find yourself in 2042! Just imagine how disconcerting that must have been for us!

"How did that happen?", you ask. Great question. Really awesome question, actually. Now, we aren't naming any names here exactly... but BurgerTron2000, what the gosh-darned heck?! Apparently, in another one of BurgerTron2000's misguided schemes for world domination, he turned himself into a time machine to go back in time, to ensure that Burger Bot couldn't stop him from dominating the world in his previous, nefarious time-travelling adventure.

"Wait! Hold up!", you say, "If BurgerTron2000 was time-travelling to the PAST, how did you end up 29 years in the FUTURE?!"

Again, very astute of you. You are at least paying attention to the 'Long Story'. Well, as BurgerBot explained it to us, it turns out that if you modify an automatic, conveyor-based, semi-automous, food-making machine in order to turn it in to a time-traveling machine, AND, you accidently drop one single onion ring into a strawberry milk shake that has warmed up to room temperature, AND you then subsequently accidentally drop the room temperature concoction into the recycle chute, at the EXACT moment that the automatic, conveyor-based, semi-automous, food-making machine tries to go BACK in time, it will futz with the quantum foam flow direction and will actually send you FORWARD in time. As BurgerBot explained, it was a 'Good News/Bad News' situation.

"What do you mean, GoBit Games? Good News/Bad News Situation?", you ask.

Well, the Good News was that, yet again, BurgerBot had foiled BurgerTron2000's attempt to achieve world domination! But, the Bad News is that apparently, if you do attempt to recyle a lukewarm strawberry milkshake/onion ring infusion just as you are attempting to go back in time utilizing a modified automatic, conveyor-based, semi-automous, food making machine, well, it kinda destroys the time-machine modification. And, so there we were, stuck in 2042. Hence the Bad News.

"So what?", you say, "Couldn't BurgerTron2000 simply modify himself again to turn himself into a time machine, thereby allowing you to return to your own timeline?"

Oh come on! How would it be the 'Long Story' if it were that simple?! It turns out that BurgerTron2000 had utilized an old hacked Dell Digital Jukebox 30 MP3 player as the quantom foam flux controller. And unfortunately, that was destroyed by the lukewarm milkshake concoction. Now, maybe we could have found another Dell DJ 30 in 2013 (it was last produced in 2006), but by 2042, that seemed virtually impossible.

So, in our new timeline of 2042, we decided on a three-track approach. Team 1 would work with BurgerTron2000 to see if a quantom foam controller could be built out of parts available to us in 2042; Team 2 would scour the world for a working antique Dell DJ 30 that BurgerTron2000 could hack using his existing knowledge; and Team 3 would work on wrapping up Burger Shop 3. And that is where we hit snag #2. It turns out that in 2042, the techology that people used had changed drastically. There were no smart phones or desktop computers in evidence anywhere besides museums! People used QuBit iRings paired with ContaQ Corneal Displays or, if they required serious computing power, they used QuBlock watches.

Team 3 then split into two groups: Team 3A and Team3B. Team 3A would continue working on finishing up Burger Shop 3 using the technology from 2013, in the hopes that we would be able to build a time machine and return to 2013. Team 3B would spend their time becoming familiar with quantum computing and rewriting GoBit frameworks and Burger Shop 3 code to be used on QuBit and QuBlock hardware.

Team 1 was having a hard time figuring out a solution since all the technology was vastly different from what they were used to and BurgerTron2000 was being stubborn and refused to learn anything new. Team 1 gave up and moved over to Team 3B to help them get up to speed on Quantum architecture.

Team 2 was not having much luck finding an ancient Dell DJ 30 and needing funds (given the fact that GoBit Games was not making revenue in 2042), Team 2 all took odd jobs to financially support Team 3A and 3B.

By this point, Team 3A was getting very discouraged: No one was even trying to find a way to go back in time anymore, so why should they spend their time working on the 2013 technology version of Burger Shop 3? They quit GoBit Games en masse and all became wandering surfers in Costa Rica.

In the aftermath of Team 3A's defection, the Teams were officially reorginized and renamed: Team 2 became Team 1 and the old Team 1 and Team 3B became the new Team 2.

Shortly after this reorginization, half of the old Team 1 (one quarter of the new Team 2) came down with a virus called Covid ThetaOmega V5.02223q. This virus had apparently mysteriously infected Earth a few years after our timeline of 2013. Since the 2042 population had been living with this virus for many years, they had built up an immuninity, and so the effects on most of the population was akin to a simple cold. However, due to the fact that the GoBit Games staff had never experienced anything like this before, it hit those of us infected very hard and put them all in the hospital for years. The rest of the office learned all about 'face masks', 'social distancing', and 'self-quaranting' from history DataBits, and put that knowledge to use.

With 1/4th of Team 2 in the hospital, and the rest of Team 2 trying to learn this completely new technology, it was slow going. (No one had heard from the original Team 3A in months.)

Finally, after a few years, the new depleted Team 2 had finally come up to speed on QuBit and QuBlock technology and and upgraded all of GoBit's frameworks and (more importantly) Burger Shop 3 to QuBit and QuBlock architecture. Burger Shop 3 was released in 2046 to glowing reviews. Due to the success of Burger Shop 3, Team 1 quit their odd jobs and merged with Team 2 (minus the hospitalized members of the first Team 1) and became simply known as Team 1 (the hospitilized workers were still known as Team 2 and the wandering surfers were not recogonized as any team). Burger Shop 4 - Hovercar Delivery Bot was released in 2048 and Burger Shop 5 - Return to Mars was released in 2050 (to commemorate the 20th anniversary of the Mars Colony established in 2030 by the seemingly unlikely partnership of Elon Musk, Jeff Bezos, the North American Free States, and The People's Provinces of China.)

It was a glorious time for GoBit Games. In 2051 we moved our corporate headquarters to Mars and would spend our free time hanging out on the deck, enjoying the view from our MarsDomeDX offices, drinking Marstinis, nibbling on SoylentArthropod(tm) canapes, and brainstorming Burger Shop VI - Rise of the Burger AI.

One day, one of the ex-members of the old Team 3A was hanging out at a flea market in Punta San Carlos (she had left Costa Rica in 2048). Low and behold, what dusty object did she spot behind a stack of counterfeit ContaQ Corneal Displays and a moldy box of something labeled QuanCovid BiValent Vaccine and Virus Supressor Self-Injectors? If you said, "a fully functioning, Dell Jukebox 30?", you wouldn't be wrong!

After some skilled haggling with the flea market vendor, not only did she aquire the fully-functioning Dell Jukebox 30 with a charging and USB cable, but the vendor (so impressed with our old Team 3A member's negotiating skills) tossed in the box of QuanCovid BiValent Vaccine and Virus Supressor Self-Injectors for free.

Without wasting any time, she took the SpaceElv7 from Brazil to LEO as fast as she could and hopped on the first Amazon FusEon cargo ship headed towards Mars that she could find. 6 months later, she was sitting in our MarsDomeDX, showing us her prizes. The sight of this nearly pristine Dell Jukebox 30 invigorated BurgerTron2000 and the first Team 2 (which of course, was now Team 1). All GoBit Games staff (including the hospitalized members and the wandering surfers) grabbed a QuanCovid BiValent Vaccine and Virus Supressor Self-Injector and gave themselves a jab.

With this influx of new old team members, the Teams were again reorganized. The returning wandering surfers and the previously hospitalized (now fully cured) Team 2 members joined with the new Team 1 (the old Teams 1, 2, & 3, minus the surfers and hospitilized workers), to forge a singular, mighty team, known simply as GoBit Games.

This newly formed GoBit Games team quickly modified BurgerTron2000 into a fully functioning Time Machine again using the recently found antique Dell JB 30 as the quantom foam flux controller! With BurgerBot at the controls this time (we were taking no chances), we set the machine for 2013, planning on heading back to our original timeline.

"Hold up, GoBit Games. Hold up. You had released a whole bunch of new games to critical acclaim and were living the high life in the future on Mars? In the FUTURE?! On MARS?! With Qbits, space elevators, and rocket ships? Drinking Marstinis, nibbling on SoylentArthropod(tm) canapes, and brainstorming Burger Shop VI - Rise of the Burger AI? And you wanted to come back to 2013? Really?!", you ask dubiously.

Shssssh. Don't interupt our TotallyTrue(tm) 'Long Story'.

So anyway, whooosh, Burger Bot hits the Quantom Time Power Button and we are traveling back in time! And, Bazam! We arrive. Or... so we thought. As we looked around, it didnt really look like the 2013 we remembered to our eyes. Now to be fair ("to be fair" echos back), it had been a long time since we were in 2013, so we might not be remembering things correctly, but still, as we looked around, there were many things we did not recogonize at all. What in the heck was going on?? Well, as it turns out, (again, explained to us by Burger Bot), if you drop a french fry into an automatic, conveyor-based, semi-automous, food-making machine that you have converted into a time machine, at the EXACT moment that you go back in time, you will lose one year from your intended target date (not to mention destroying the time machine in the process.) And guess who had dropped 9 french fries into himself just as we were going back in time? Yeah, you guessed it, BurgerTron2000.

So, there we were in 2022, not 2013. Ok, we thought to ourselves,we didn't get back to 2013, but we can make this work (we are nothing, if not flexible). But wait, where were our offices? Our desks? Our computers? We have just the one old QuBar cartridge with our final released QuBit version of Burger Shop 3? None of our 2013 tech? No art assets? None of our frameworks? None of our game code? Oh my... Here we go

again

, getting ourselves in another outrageous pickle.

To make the Long Story short, since our latest time traveling incident, we created two new teams: The GoBit Games Team and the Dell DJ 30 Aquisition Team, LLC. The Dell DJ 30 Acquisition Team has not had any success to date, so currently there is no hope of us returning to 2052 and retrieving all our data Qblocks. Everyone on the GoBit Games team has been busy trying to unlearn QuBit and QuBlock architecture and learn all about the ancient technology of 2022/23 so that we can port the game to this new timeline.

(How do you guys use hardware so slow? My SmartQPik ear swab in 2043 had way more processing power than these so-called computers of today!)

The GoBit Games team is also hard at work creating graphics for the very backwards display formats used in this timeline (

1920x1080? Everything is sooo blocky and pixelated at that resolution! I can't wait until this timeline discovers SupaEXtremeHHHD Coroneal ContaQs! "So life-like, you won't know if you are online or not!")

.

All in all, this has been a very arduous and time-consuming process (as well as making for a very 'Long Story').

But, we promise we won't let this timeline down!



Barring any more time-machine shenanigans, we will continue working hard and release Burger Shop 3 in this timeline, some time in the future! (See what we did there? 'Future'? Get it? Time travel? 'Future'?

Bad puns are considered the highest form of humor in 2052

.)

Click here for more details on our progress of Burger Shop 3 in the ancient times of 2023!





The Short Story

The Short Story? T h e. S h o r t. S t o r y? Really? After all this time, you really want The Short Story?!?!

Ok, fine, we don't blame you: Here is The Short Story.

A surfer, a punk, and a mime walk into your Burger Shop. The surfer orders three triple bacon cheeseburgers with lettuce, tomato, ketchup and mustard. The punk orders a triple bacon cheeseburger with lettuce, tomato, mayo, and mustard. The mime copies the surfer's order.

What do you do next?

"Hold up a mintue, GoBit Games!", you say, "This doesn't sound like a story, this sounds like some old-timey text adventure game!"

Ok, maybe... But trust us, it is WAY shorter than the 'Long Story'!

So, what do you do next?

You stare in dismay at the vast towers of sandwiches being ordered all at once and watch the punk getting increasingly impatient. You take off your apron, toss it on the counter, and walk out of the Burger Shop, cross the street to the beach, and lay down in the warm sand.

Or

"You guys sure are hungry!", you say, as you roll up your sleeves and get to work. You use Burger Bot 2.0 to deliver one sandwich to each customer, and then quickly make the remaining sandwiches and deliver them to the hungry customers.